Services We Offer to Federal Agencies
GSA's Office of Real Property Utilization and Disposal provides our Federal customers with comprehensive asset management tools, resources and services that enable them to develop cost-effective and efficient real property repositioning strategies such as: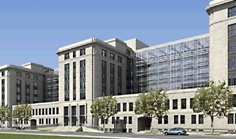 Appraisals and marketability studies
Asset/disposal options studies
Environmental support services
Land use plan/master plan preparation
Historic preservation consultation
Title review
Targeted asset reviews
Facility condition assessments
Energy audits
Sustainability studies
Report of excess preparation
Land surveys
Demolition consultation and analysis
Site acquisition
Comprehensive repositioning (Cradle to grave project management)
Real estate portfolio consultation services
Sales execution
Transfer of excess properties for further Federal utilization
National Relocation Program
National Historic Lighthouse Preservation Act (NHLPA) Program
Public Benefit Conveyance (PBC) compliance inspections
Outleases
Base Realignment and Closure (BRAC) assistance
Land use control monitoring
Real Property Utilization and Disposal training courses
In addition to these tangible services, we bring the following expertise and resources to bear on your behalf:
Full understanding of complex Federal disposal process and environmental laws and regulations
Established Federal contacts and relationships
Comprehensive marketing expertise
Local market analysis through our Regional Offices
Ready information access through the internet
Properties that are not conveyed to eligible recipients for a public purpose are sold by competitive bid to private individuals. The properties can vary widely in type and value and may include: undeveloped land, commercial and industrial facilities, office buildings, military holdings warehouses, lighthouses, single and multi-family residences and more. Properties may be located in any of the 50 states, the District of Columbia, Puerto Rico, the U.S. Virgin Islands and the U.S. Pacific Territories. To bid on property visit www.realestatesales.gov.